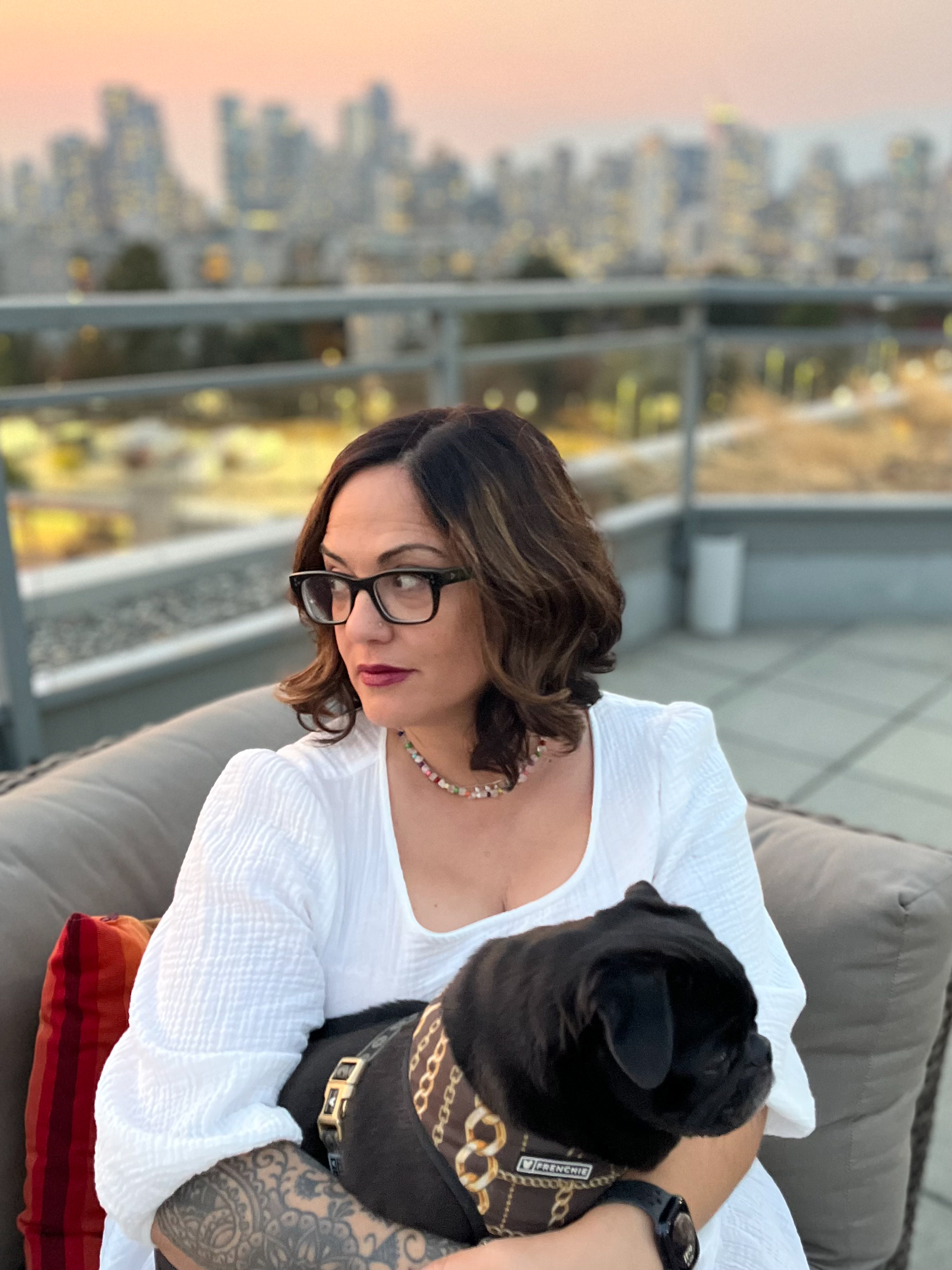 I always wanted to be a fashion designer. As a kid, I spent most of my time drawing clothes and directing my brother to design lipstick colours using our Scooby Doo watercolour kits. My knack for getting people to do creative work obviously started young. I also scavenged in my Nana's basement for vintage treasures – many of which are still in my home today. 
I started art school (Alberta College of Art and Emily Carr University) to study painting and photography and got interested in graphic design. In retrospect, it was a wise choice since I still don't know how to read a pattern. After finishing graphic design school at Grant MacEwan University, I worked for various design and advertising agencies doing glamorous things like designing McDonald's tray liners in Quark Xpress (does that still exist??). In 1996, I started CHAOS Communications with writer and creative strategist
Sheena Stewart
CHAOS landed some incredible clients and did amazing work on designing, writing, and producing branding, annual reports, websites. We built a portfolio I'm still proud of today.
By 2010 the west coast was beckoning me back. I also knew loads of people through my work on the national executive for the Graphic Designers of Canada, who kept telling me I belonged on the coast.  So I packed up my pug and my vintage collection and headed to Vancouver, where I did some self-reflection and realized what I enjoyed most was creative production. I love the adrenalin of a shoot, the challenge of finding and assembling talent, and the control of watching budgets and schedules. Yeah, I like to be in charge – something my brother learned at an early age. Over the past ten years, I've worked as a creative producer on some pretty impressive campaigns where I blend my reverence for creative freedom and integrity with my knack for planning, accurate budgeting, and detailed organization. 
Because I know I'm not alone in that love of the yesteryear aesthetic, I started
Vintagey
where I throw the occasional pop up shop and source whatever retro items you're looking for. I still love fashion illustration, gesture drawing, and fibre art. I'm also that crazy dog-person you see at the park, whose dog has a wardrobe that rivals most of my friends (don't judge). I've always got an extra dog in tow (with permission of their owner – I swear) and a pocketful of treats – which has come in handy on more shoots than you'd expect.